Oooh I've never been Whitebaiting before and was invited to the mouth of the Hurunui to catch my own, how friggin exciting.  So me and a good mate of mine, Julie went with gum boots, long johns, hair ties and high expectations for the last day of the season.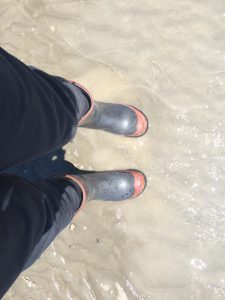 We met our glorious hosts Woody, Percy & Skye in Cheviot. Where we combined provisions, picked up the boat and off we went!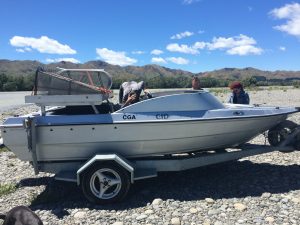 Everything we needed to catch a sh*t load of those tasty little morsels.  Boat – tick.  Net's tick!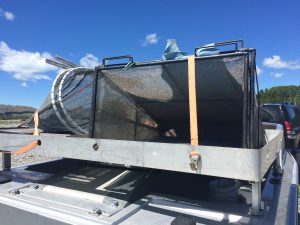 Once in the water Percy put his foot down and we were off to the 'sweet' spots to drop our nets.  If you've never been in a jet boat before it's a must, Percy was very fast, fantastic, but also safe and water aware! I whooped and hollered all the way and as you can see it was the perfect day!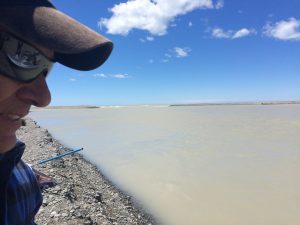 You can just see the white tipped waves at the mouth of the Hurunui – what a vista and Percy's mate already had quite a morning with plenty of whitebait in his bucket! Hello Sweet Spot!!!
Now for the work.   We headed for the opposite side of the bank to catch all the frisky little ones that managed to escape the other nets.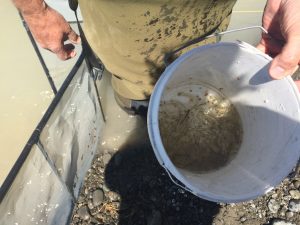 Percy explained, when they come in at the mouth like this, the are clear and white,  it's only once they get deeper in, where the water is a little more muddy, do they become darker in colour – silver bellied!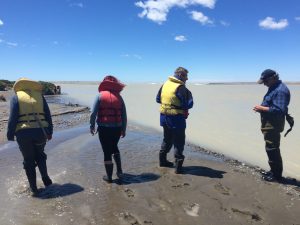 Safety first – check me out in my red bands and life jacket, complete with crutch strap – Ooo Mrs!!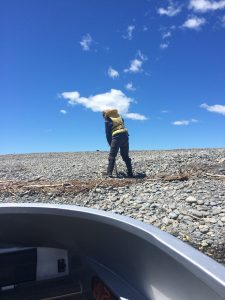 First to bash in the waratahs, using a mallet, this secures the net – flex those muscles Woody!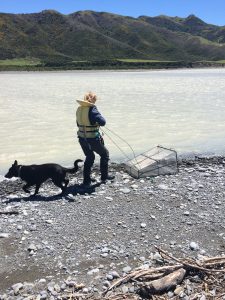 Next with the assistance of beautiful Skye, the important Whitebait nets.  Not too deep but deep enough to catch the little buggas!
To be extra whitebait aware, as well as the nets, there is also the scoop! Ha – gotcha!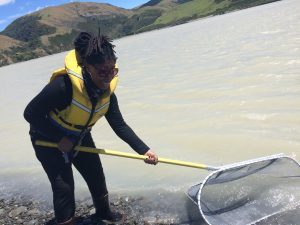 Blimey this is heavy work – your turn Julie!
Of course, I couldn't help myself and poor Percy got 120 questions… But why? And how do they and what if……… thanks Percy!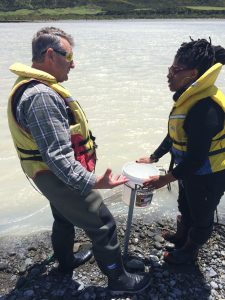 Our gorgeous hosts – Perce and Woody (Nicola)…. fab! fab! fab!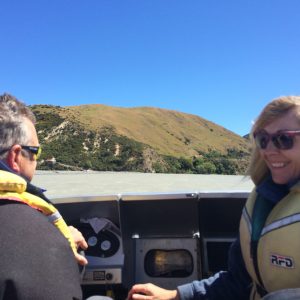 I invented a new term – Dr-Ailing – next time you see me ask me about it – I nearly wet me knickers – truly!
We didn't do as well as expected, with only a family of whitebait between us, but what an experience. So homeward bound to bach life…..
Even Skye is smiling……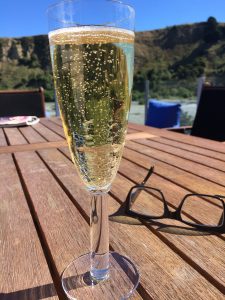 Ahh – wind whipped, tired and a little damp, home to a chilled glass of Moet and the promise of BBQ lamb, I won't mention the goat (Gerry and Gary) a perfect end to a perfect day…. wait a minute…. you're probably asking about the catch of the day, here is the before picture….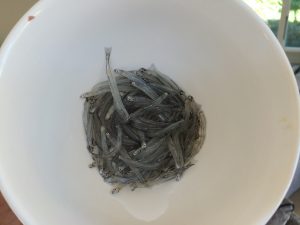 And of course, here it is after – cooked by Percy and absolutely delicious. X