I know Saturday morning is considered 'sleep-in' day and I love mine as much as the next person. However, if there's one thing that gets me to rid myself of my PJ's, erupt out of bed and lace my walking shoes on, it's a gorgeous, seasonal day and a slow meander through Christchurch Farmers Market (Riccarton House and Bush).
If you've never been, it's an absolute must, especially around this time of year, when the leaves are changing; the vibrant colours against the lilac blue sky are stunning and it's beneath this seasonal canopy you enter the market.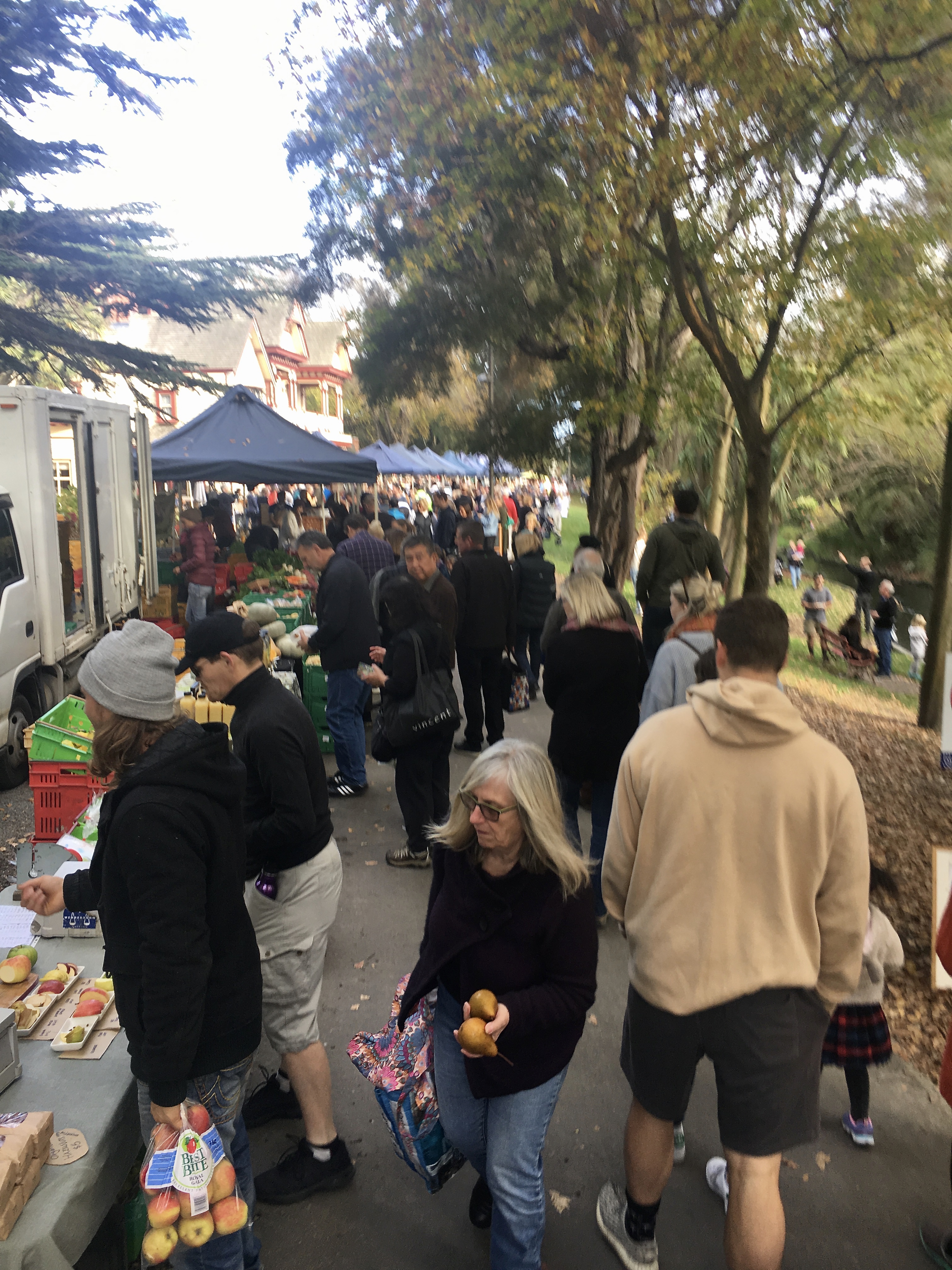 Supermarkets : where stressed people wander the aisles, shouting down mobile phones, steering trolley's into ankles, with list in hand. Parents scream at children, whilst grabbing repetitive items to fulfill a weekly need of fuel and go.
Farmers Markets : No list, just trust the farmer / producer. Families, kids, buskers, tourists. Swinging baskets, eco bags and hessian sacks. Happy stall holders, proud of their harvest. Seasonal produce, fat, juicy and full of sun, flavour and colour. Warm soup aromas, mixed with eggs and fish on hot grills, social gatherings, children playing in leaves, and smiles, so many smiles.
Where On The Street : 16 Kahu Road, is the actual address of the Market, however, it's held in the grounds of Riccarton House and Bush, a heritage site consisting of two historic buildings, flanked by beautiful open parkland, ornate gardens and native bush.
It's well worth a visit just to check out the house and Deans Cottage, the first home shared by the Deans (one of the first families to settle in Christchurch) as they established their farming vision in Riccarton – back in the day!
Foodage : Even if you're not a cook and feel very happy ('thank you very much'), in your local supermarket, this Cantabrian bazaar is the perfect place to pick up a fresh barista coffee, chai, creamy hot chocolate or freshly brewed Kombucha, French pastry, and a pottle of duck food to perch, on the grass, by the slowly flowing Avon and listen to some Jazz as the world goes by. If however, like me you have a voracious appetite, then the following amazing stalls are on offer to please your 'break the fast' choice:
Posh Porridge : one of the most incredible bowls of hot delicious breakfast you could ever choose to eat.
Prepared using a combination of milk, cream, soy milk etc., with a variety of stunning toppings, my current favourite Quince, Apple with Ginger Syrup and Pistachio Coconut Crumble (eeeek!) so good and only $10 a bowl. For a day's worth of bellyful goodness and you feel like it's healthy – well kinda!!
Bacon Brothers : is another 'shut the front door' dedicated stall, always surrounded by a mass of people, drawn to the smell of frying bacon, like Christians to the Vatican.  
Currently grilling to order a variety of sandwiches, including 'The Woody' (see pic) stuffed with Free Range Bacon, Lettuce, Avocado, Tomato and a Crispy Hash brown with homemade BBQ Aioli. Sandwiches start from $9.00 depending on your hangover or bacon constitution. If you're veggie or vegan, avert your eyes people.
I could go on and on, however I'll save you the 'blah' needless to say you can get your foodie kicks very easily from the variety of fresh, organically grown produce which range from shittake mushrooms, elephant garlic, olive oil, homemade Italian pastries, fresh crumpets, artisan cured salamis and meat. Free range eggs, freshly baked loaves & buns, flowers, vegetables and condiments.
Vegan and raw food, cakes and sweets. Vegetarian fare, stunning local wine and cheese, plus of course a heady mix of different types of diverse food stalls, Colombian, Korean, Japanese, Spanish, Vietnamese and a smattering of fusions. There's a geeza who sells divine Cornish Pastries, wrapped in the most delicate, crumbly, buttery pastry….. ooh I'm dribbling again!
Even if you only go 4 times a year (every change of season), you'll not be disappointed and you will return.
What I love, love, love, is whilst wandering up and down the stalls, crunching through the gravel, we're supporting our local producers and community, in the best possible way.
Time Mr Wolf : 9am – 1pm (get there early for the best produce).
Big love