The Permit Room
779 Colombo Street
Lunch Menu : $5 – 20
Dinner Menu : $10 – $36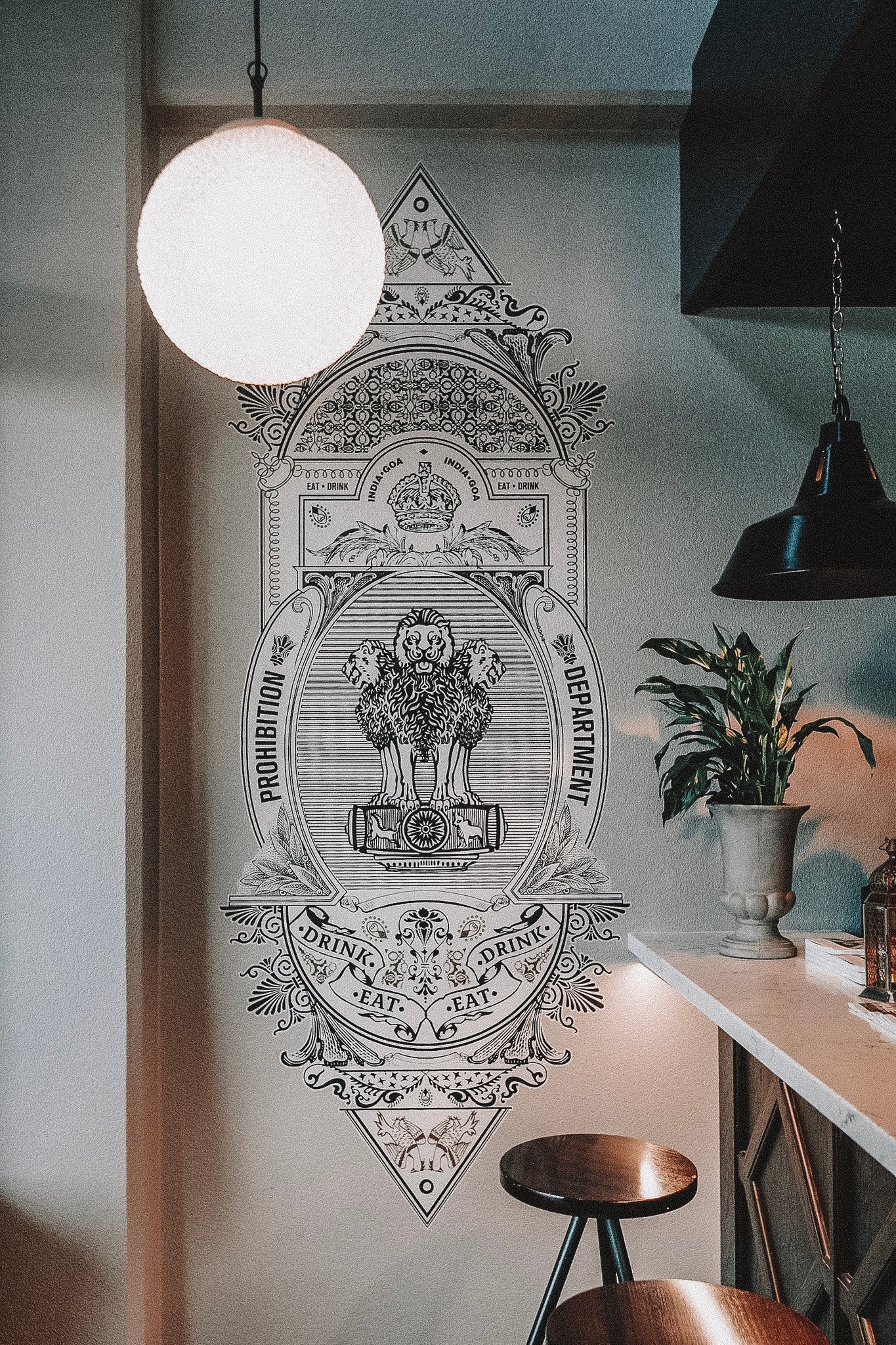 "Welcome to the days of East – Indian prohibition.
As a visitor, inside these four walls, the laws against extravagance don't apply.  The Permit Room has attained a license from the authorities in your name.  Tonight you are free to follow the night.
Indulge"
In 2001, I tearfully left London, UK, with my family and 82 pairs of shoes, to begin a new life here in Christchurch NZ.  Before I left, I romantically lamented on the most important things, I thought I would miss. Of course my family and friends, but also, the little places that made London uniquely my home.
Sipping away at a trim flat white in the heart of Soho, whilst listening to the barrow boys of Berwick Street market, offer vegetables and fruit to the 'girls of the night' as they made their way home after a night of trade.  In the dark cobbled alley ways of Elephant and Castle, my favourite, ganja smoking dread twister, Marcia, with thick locks down to her ankles and her eyes almost permanently closed, a fat 'Camberwell carrot', wedged between her lips, while her fingers did their thing in the depths of my hair.
Markets, so many markets, Brixton in the South, Brick Lane, in the East, Camden, North, but mostly, as I lived in Greenford (West), just around the corner from our home, Southall, with the largest Indian, Pakistan community in London.
As often as I could, I would experience what Southall Broadway had to offer; the colours, languages, jewellery, intricate sarees and textiles, festivals, celebrations but mostly, oh my days, the food.  Sweets, samosas, salsas, curries, rice, endless dishes with so much flavour packed in with regional personality.
Because of my absolute love of anything coconut – which is fiercely Jamaican, my favourite type of dishes, are from the South, heavy on the coconut : Keralan curries and rice, Dosa, a light, nutty pancake, made from lentils, rice or urad dal.  The sambar powder – (huli pudi) used to spice dishes.  Dried curry leaves to flavour soups and tamarind to sweeten stews or with prawns.  Kale and banana combinations just incredible. A colourful blend of cultures and traditions.
How would it be possible to recreate all or any of these authentic dishes so far away from my little pocket of happiness.
Well my friends, last week I walked through the doors of The Permit Room, and although I'm yet to experience Indian food in actual India, it was like being transported back to my days in Southall, wandering from sweet shop, to mouthfuls of samosas. Bhajis and oh yes, light and delicate dozas and I was in heaven.
The Permit Room, which opened in March 2019, is based on the days of the East Indian Prohibition laws.  The fittings and menu are styled on the old colonial style, lots of fabulous detail with a mixture of traditional and contemporary design.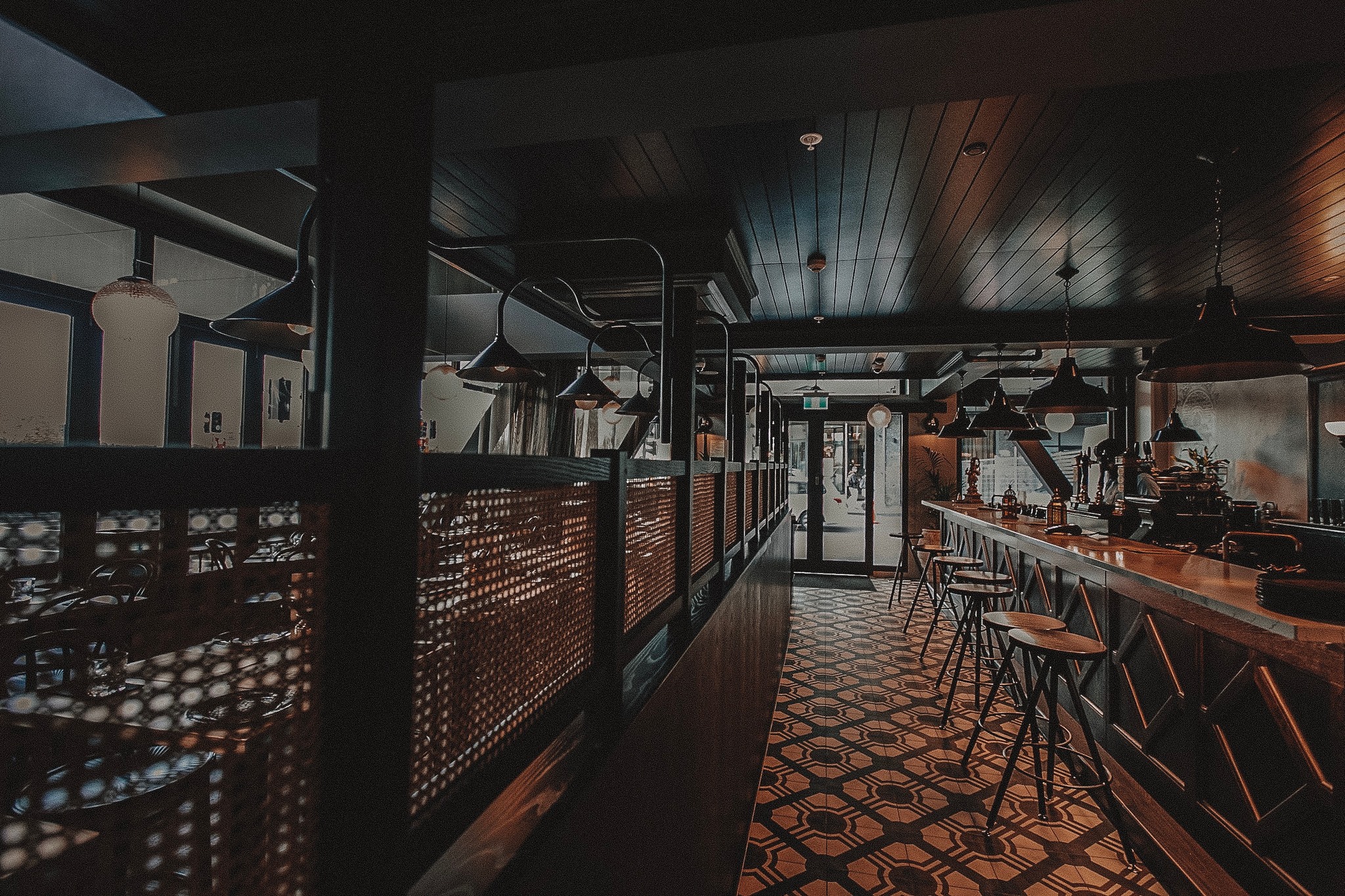 Out; flock wall paper, posters of the Taj Mahal and copper curry bowls.
In; cut crystal glasses, porcelain sharing platters.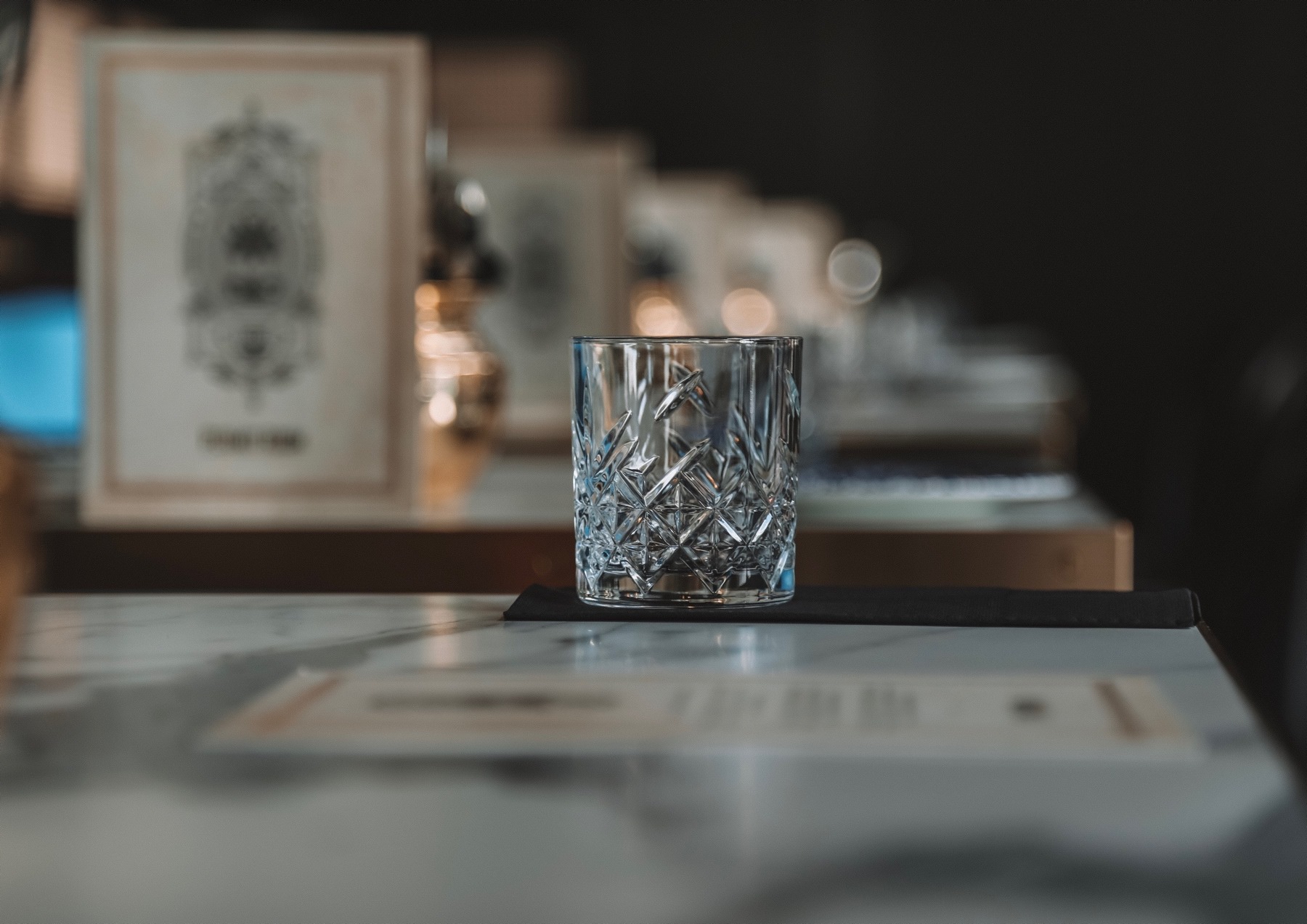 Elegant, English china plates and a fabulous experience of 1940's Indian prohibition – illicitness with opportunity and the menu reflects all of this wonderfully.
For me, eating out is always a theatrical experience, I could never replicate at home. Along with the food, I love to experience the ambience, paired with friendly, gorgeous staff and The Permit Room, delivered on every level.
Imagine, dark wood, delicate as lace fretwork dividers, deep turquoise velvet, wood, brass and glass lanterns with an outlook onto one of the busiest corners in Christchurch and you have everything you need for a thoroughly enjoyable experience. Whether eating in or perched on a high table outside, sipping a cocktail while the world shoots by.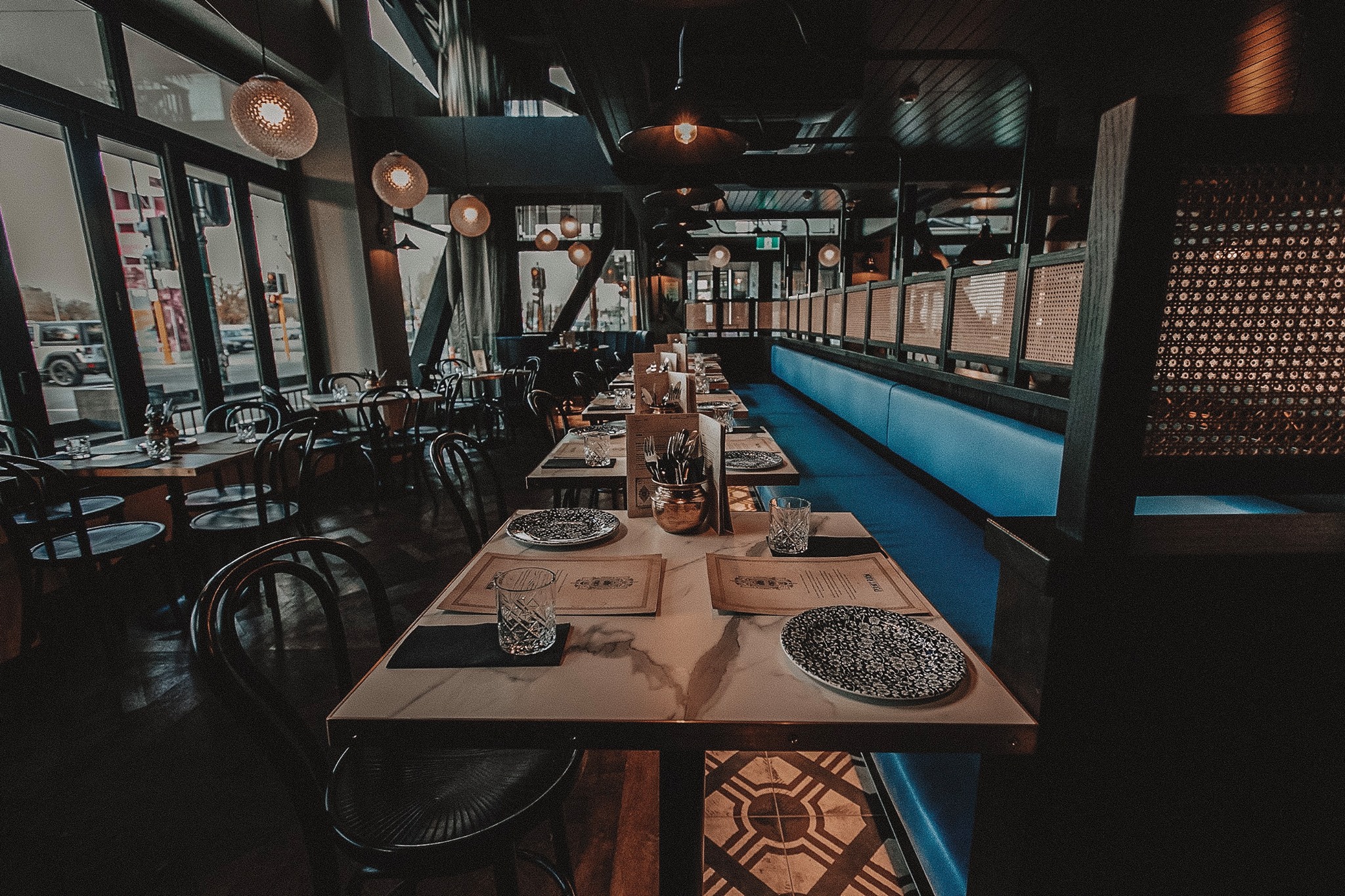 Ahh did someone say food?  So we decided on a sharing experience, and ordered from the small plates, section of the menu : Banana & Kale Bhajees : tamarind and date chutney, Keralan Fried Chicken: mustard seeds & curry leaves, tempered peanut & chilli dipping sauce, Gunpowder Cauliflower & Potatoes.
Oh, but hold on, for drinkies, I ordered (OMG) the most delectable gin cocktail : freshly chopped coriander leaves, cumin, ginger, sugar syrup and gin – wow, I actually nearly passed out it was so divine. Fresh, sweet and when sipped through the heat of the spicy dishes – I had no words… NONE! Food. Match. Heaven! – that's me shouting by the way.
Although I'm yet to experience The Permit Room curry menu, I will definitely head back for a plate of the Banana & Kale Bhajees. Crispy on the outside, with a sweet and chewy centre, paired with the chutney – well I was sorry I had to share to be honest.
The chicken succulent, tender and full of Eastern promise.  But that fish, ooohhhh weee – in a beautiful spicy marinade, and grilled to perfection.  The combination of white fish and deeply imbedded spices, just sensational.
Every dish, prepared with love with intent to tempt your tastebuds and lure you back for more.
I will save my appetite and return for the larger plates, I already know what I'm going to order.  Dosa (potatoes & onion subji, lentil and turmeric sambhar & chutneys).
South Indian Coconut Butter Chicken, Alleppey Prawn (tamarind, coconut cream, raw mango & broccoli curry) served with red rice and Roasted Eggplant Pachadi (hung yoghurt and sesame seeds).
You coming or not?