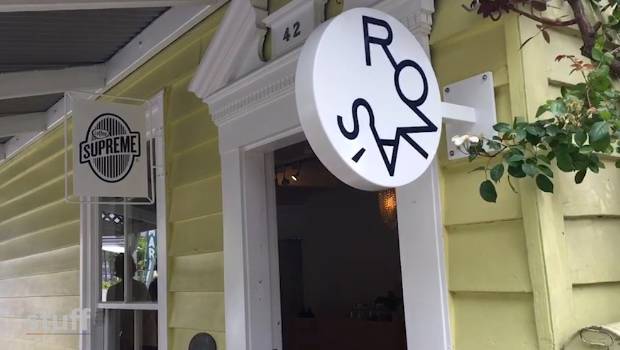 They say in fairy tales that magic is found over the hills and far away, which is exactly what we discovered, in the little township of Akaroa.
If you're hard stepping, you could easily miss Rona's, a tiny villa, with yellow cladding, rusty canopy and petite door. 
Inside however, it has a Tardis-type vibe, with wooden-floored dining spaces imbuing plenty of personality.
We arrived for an early dinner at 5pm; greeted with a big smile; led through a long bar, past an audience of Dick Frizzell pop art,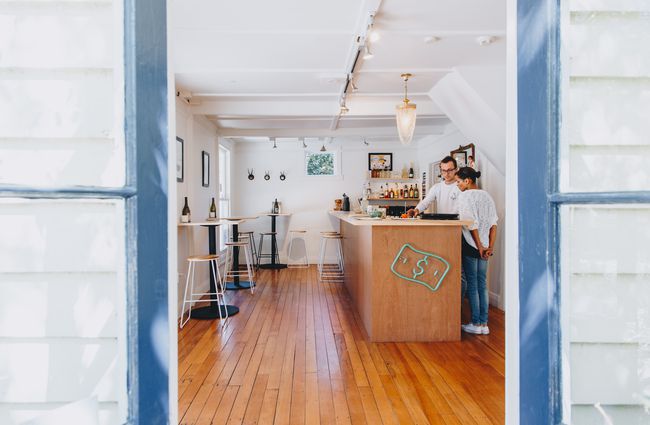 into a rustic dining room with French doors open to a fragrant courtyard, bursting with white roses, vegetables and herbs.
Seated beneath a canopy of dripping grapes, on one of the warmest days of the year, with St Germain piping in the background, we could easily have believed we were on holiday in Burgundy.
Rona's, once a gallery, is the perfect place to land after the stunning drive over the hill or a day browsing the shops. Lovingly transformed into this boutique eatery, is modern, fresh and full of magical promise.
Relying on the seasons, the menu has plenty of sass and using produce gathered from the surrounding water, land and community, is bursting with confident variety.  Here, Chefs Harriet Owens and Finbar McCarthy have produced a beautiful selection of dishes for shared plates.
Offered a lovely range of wines, I had to go all French with a white from the Loire Valley, a glass of couronne et lions vouvray. A sweeter style, semi-dry, chenin blanc, fabulous to punch my taste buds into eating mode.
For him, a non-alcoholic Grapefruit Flavour Bomb, which arrived sparklingly effervescent amongst chunks of ice. If beer's your thing, Rona's have teamed up with Wellington based brewers, the Garage Project, with their colourful pop art cans and unusual flavour combos.
For starters, we had no problems selecting, the chicken liver parfait: beetroot jam, dukkah, pickled fennel and toast along with the market fish crudo.
I actually gasped when these exquisite dishes arrived, the parfait, a soft, blush pillow, sprinkled with the toasted seeds and earthy jam, which had been blended to a smooth sticky paste in order to match the slow melt of the parfait. Paired with the vouvray, a touch of heavenly magic.
The crudo: translucent slivers of tarakihi, banging flavour, dressed with shallots and dill and to clean up the palate, the sweet, sharp tang of citrus.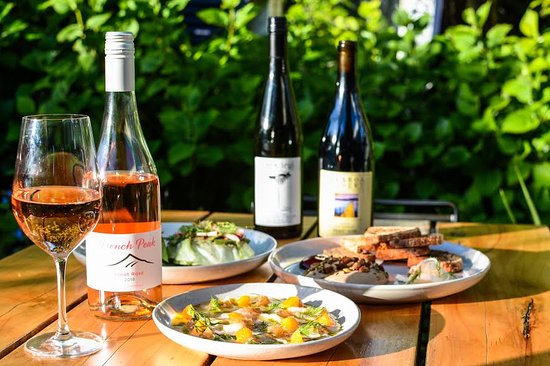 It was hard to decide on a main.  In the end, we had to lament on what we would choose when we returned (!) and with fingers poised: veal sweetbreads, peppercorn mayo, pickled mustard seeds along with fried tarakihi, vadouvan butter, pickled rhubarb, fried curry leaves.
It's been a while since I dined on well prepared sweetbreads, so, it was with excitement I anticipated this plate. In the meantime, more refreshments and a glass of Astrolabe chardonnay, Marlborough.
The sweetbreads arrived crisp and crunchy on the outside. Juicy, delicate and full of flavour. I had to steel myself to savour the moment and not shove the whole plate into my mouth. Rich but cleverly broken down with the snap of bitter seeds, creamy heat from the mayo and subtle spice of the rocket leaf garnish. This was my dish of the day.
The fish was lovely, however we both felt it was a little lacking in punch. I love vadouvan – the French variation on a masala spice blend – and didn't get the full flavour I was expecting. However, the crispy curry leaves and pickled rhubarb garnish, created a well-balanced plate.
Both of us conceded we didn't need a dessert, then found ourselves spoon in hand, me with an orgasmic milk chocolate tart (ooh the short buttery pastry), pear and cardamom cream and him, a giant bowl of fluffy
lemongrass mousse, with a surprise gooey white chocolate centre, sprinkled with shards of fresh coconut and contrasting rhubarb.
Rona's is a striking restaurant, in a beautiful setting. Owner Caroline Cooper-Dixon, a local, has taken the best of everything her community has to offer and from it, created this stylish and elegant personality.  Just when you think you've seen it all, it's so wonderful to be surprised – now that's magic.
14 / 20
42 Rue Lavaud
Akaroa
03 304 8533, ronas.co.nz
Dinner : Thurs – Mon
Lunch : 12pm til late wkds
Shared Plates: $18 – $30