Oh! My! lawd have mercy people, strap on your seatbelts and let me take you for a ride, back to the future, Christchurch has a new place to hang where Victoria meets Montreal Street, only a few weeks young, the classic all American, Diner 66.
I know, I know, all the clichés, but here, it's exactly what we want and nothing else, when you push open those magical double doors and a crooning Elvis rushes out to greet you!!
Leather booths, bottomless filter coffee, doo-wop in your ears, counter top service, Peggy Sue, frilly aprons, tin number plates, it's all there in glaring technicolour and it is FAN-BLOODY-TASTIC.
Only been open for 3 weeks, and the reviews are top notch with the diner slammed most days.
Ok, before I hyperventilate let's talk food, because there's plenty of it. The menu is as long as it is wide, with a hit for Breakfast (All Day). Appetizers, Burgers (of Route 66), All American Sandwiches, Fresh Salads and Sides.
Boasting a footer of Sundaes & Splits, legendary shakes, sodas, floats and hold the phone, my all time favourite dessert Pizookies.
Before I fall over, let me tell you all about Pizookies. They're where your heart meets, chocolate, meets heaven. A cookie dough style pizza, served hot in a mini skillet with vanilla ice cream. At Diner 66, you get a choice of dough bases: triple chocolate, S'Mores (biscuit & marshmellow), salted caramel, warm chocolate & walnut brownie – yup, take it all in.
Let's do this properly :
WHERE ON THE STREET : 88 Victoria Street.
Head down Papanui Road, over Bealey Ave and just before you arrive at the corner of Salisbury and Montreal, Diner 66 is a shining light, all window booths, with entry just on the junction.
FOODAGE : Eek! Although a diner, this enterprising restaurant boasts Gluten Free, Vegetarian and Vegan options, so no one misses out, everyone is in.
Breakfast will set your back around $18, selections range from Eggs Benny (His, Hers Hash), Stack it (Waffles 4 types) Omelets and extras ($3), with buttermilk biscuit in there along with corned beef hash.
The drinks menu is equally impressive, with Shakes : traditional, chocolate, fruit or Diner 66 Specialties : Bubblegum. As well as a selection of sodas and floats; US Craft beer and wine. Cocktails range between $14 – $15 depending on general or specialized aka The BBM : Bourbon, Bacon and maple syrup!!
Appetizers : Deep Fried Pickles, Onion Rings, Sloppy Joe Nachos, the list is endless.
If like me you can't decide, let them choose for you and order the Route 66 Pile Up : Fried Chicken, Onion Rings, Deep Fried Mac N Cheese with sauces, these come in orders for 1 – $12, 2 – $19 or 4 – $26. It's a massive feed, which you won't be able to finish, but no worries you can take home all that you can't finish and eat it in the car on the way home, like someone I know!
Salads : with the option to bowl it or wrap it (gluten free options here). The usual suspects, taco, crispy buttermilk chicken, Caesar, Waldorf (my absolute favourite) : lettuce, apple, celery, nuts, mayo. Or house salad, with a gzillion fresh ingredients to make your heart smile and your eyes roll – ding! dong!
Every table and bench top is dressed with napkin dispenser and condiment heaven: squeezy mustard, hot pepper sauce, sweet hickory BBQ Sauce and of course the red stuff to puddle on your plate if you can find the space.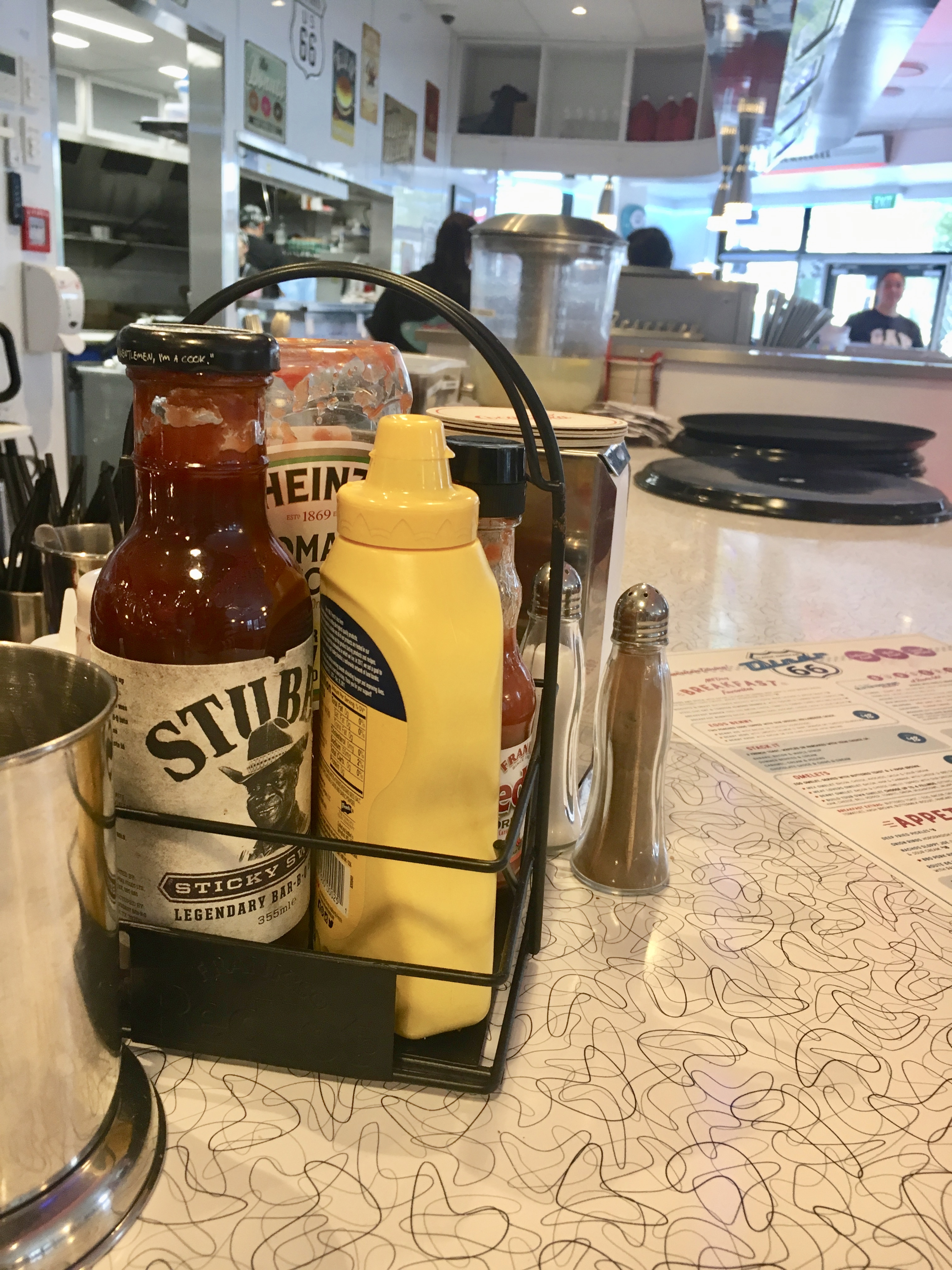 FILL THE TRAP : This is a great hangout for groups of friends or good time for a family. 'Peggy Sue' suggested booking ahead to save disappointment; however there's counter service and the restaurant is impressively large.
A main will set you back around $21 for a good sized burger with fries and slaw, a salad around $18, without sides.
TIME MR WOLF : Diner 66 is open Mon – Friday 7.00am – 9.30pm (kitchen closes), doors close at ll.00pm. Saturday from 8am.
I rolled off my bar stool full of the most divine buttermilk chicken, I've ever eaten, ate some much, I know I'll have the chicken sweats later. Never mind, I'm very happy to suffer for my art!!!
RETURNABILITY : Not gonna lie, but those curly fries are calling me ya'll.
Bahahahaah – big love, stay gold – Jax