Now you're here, why don't you make a cuppa and pull up a chair, I'd like to share a little about me.
I love recipes, in fact they rule my world and not only where food is concerned.  I layer them over many facets of my life – just makes sense to me.
There's something about a fantastic one. Whether food, people, events, or occasions with great ingredients, synergy and flavour combined to achieve the best results.  And, if I don't have the expertise at hand to fine tune that particular recipe or idea, I'll make it my duty, to find someone who can assist in making it possible, to achieve that particular dream.
This blog post, is all about understanding the importance of presenting my dishes in the best light, for the best shot, alongside determined direction so you, my audience, get a pic of a delectable dish you can then recreate at home.
For me an image of food, no matter how simple, has to scream 'try me, taste me, eat me'.
You have to want to eat it right there off the page, otherwise it's just a good idea by someone else.  It's my job, to translate that image into a dish for you, your friends and your family.
Recipes are gifts that keep giving, that's why your Nan's old recipe becomes yours with a hint of coriander.  Your sister's disgusting rice pudding transforms into a family favourite with the added richness of coconut cream and dark chocolate.  Your local restaurant's special lamb dish, is recreated in your kitchen with a pinch of this and a little that added from your pantry.
So one fine day on set, with my modern and stunning SMEG appliances in my kitchen: Eve – some recipes where born and captured.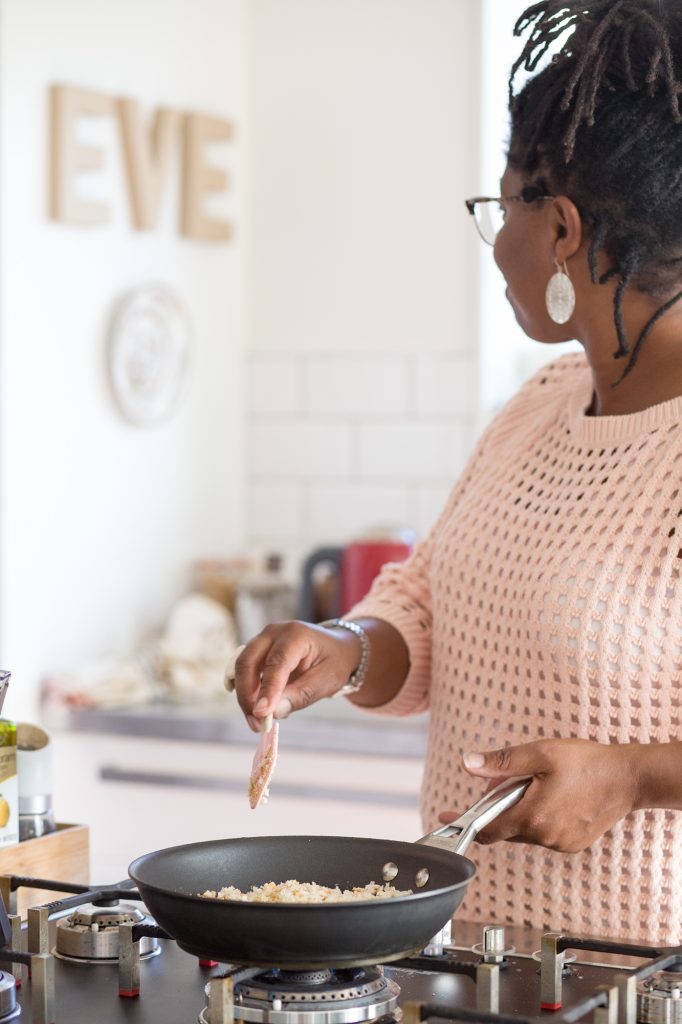 Eve…. she always has my back!
………………………..
Along to keep this cultured cockney in check and produce the best ever outcomes, Julia Atkinson of Studio Home – my Artistic Director, Social Media Guru and all round Business Development Entrepreneur.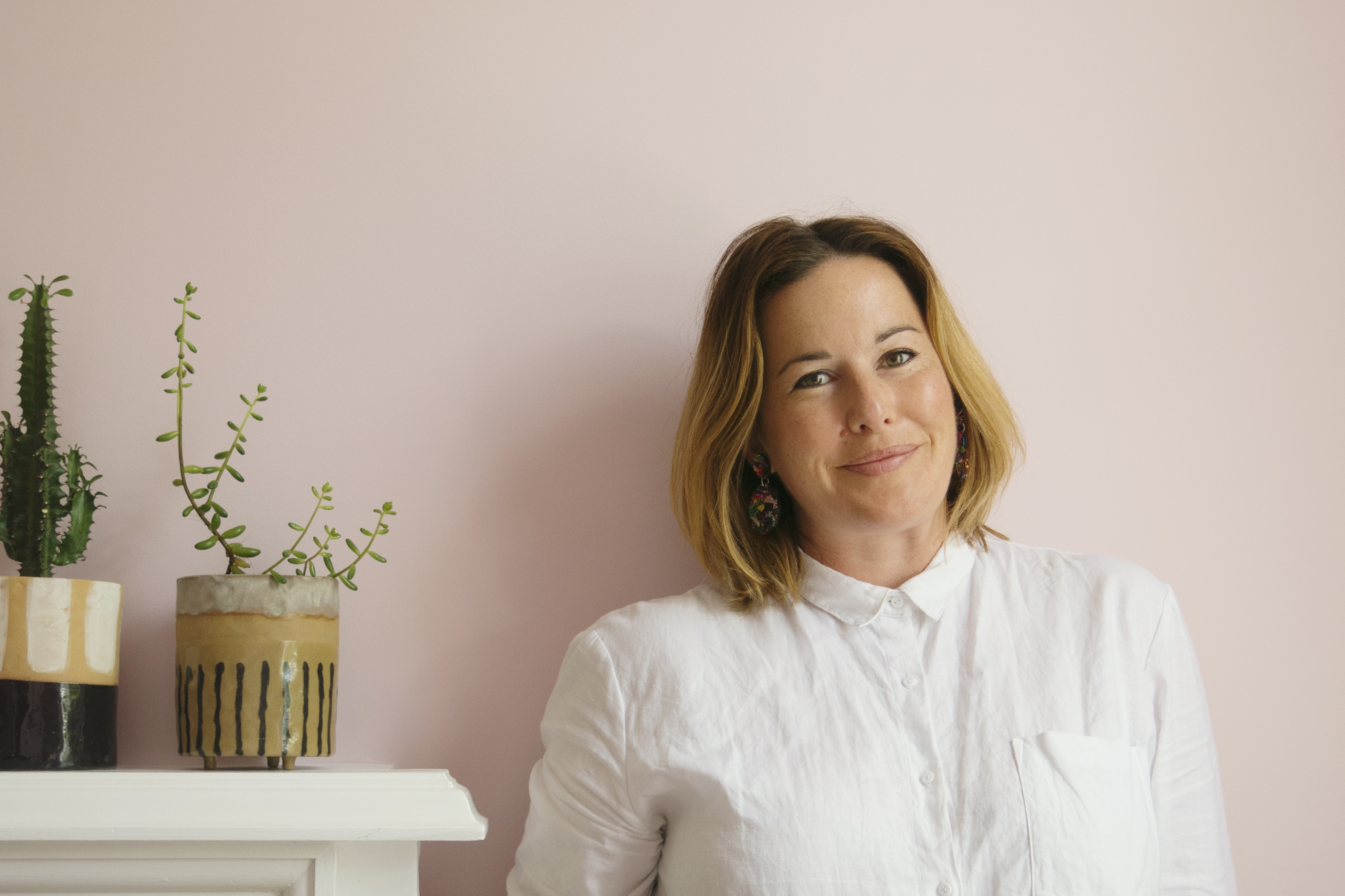 And also…..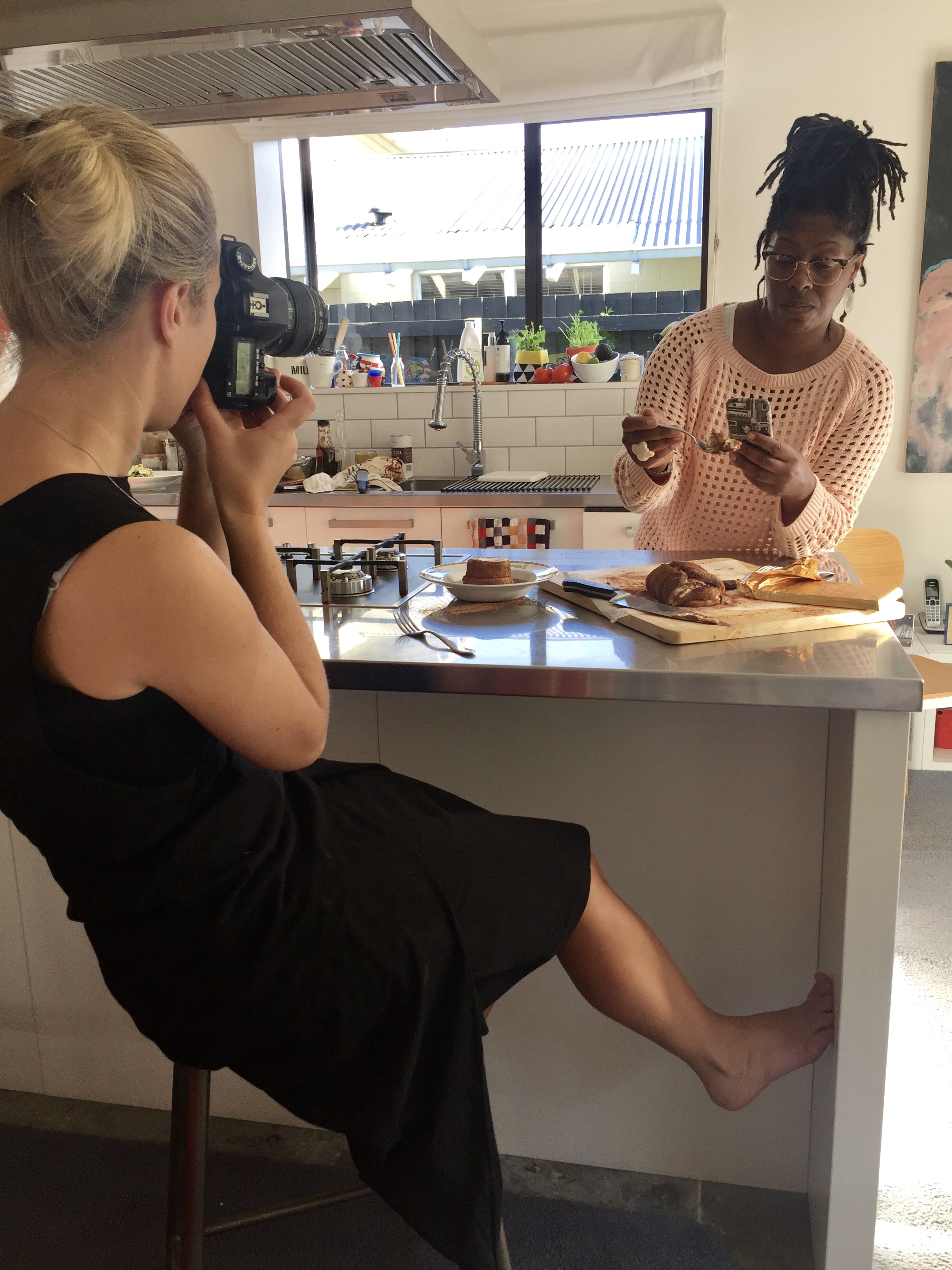 Daniela Aebli, an incredible photographer with talent oozing from her every pore. Not only does the light glow from her lens, she 'gets' me, where many haven't!
Gets who? Jax 'Out of the Box'!
With her network of millions (!) Julia mixed it up and wrangled the 3 of us together for the creation, direction and capture of beautiful dishes to populate my up and coming, brand new, soon to be introduced venture.
5 dishes, music and sunshine all day long.. mix 'em all together and what you get is a fun, productive day full of laughter and a newly discovered recipe for business alliances, alongside the bloom of friendship.
For Daniela and I, this was our introduction: Jax meet Daniela, Daniela meet Jax,  with plenty of time for coffee, sticky breakfast baking and girl talk….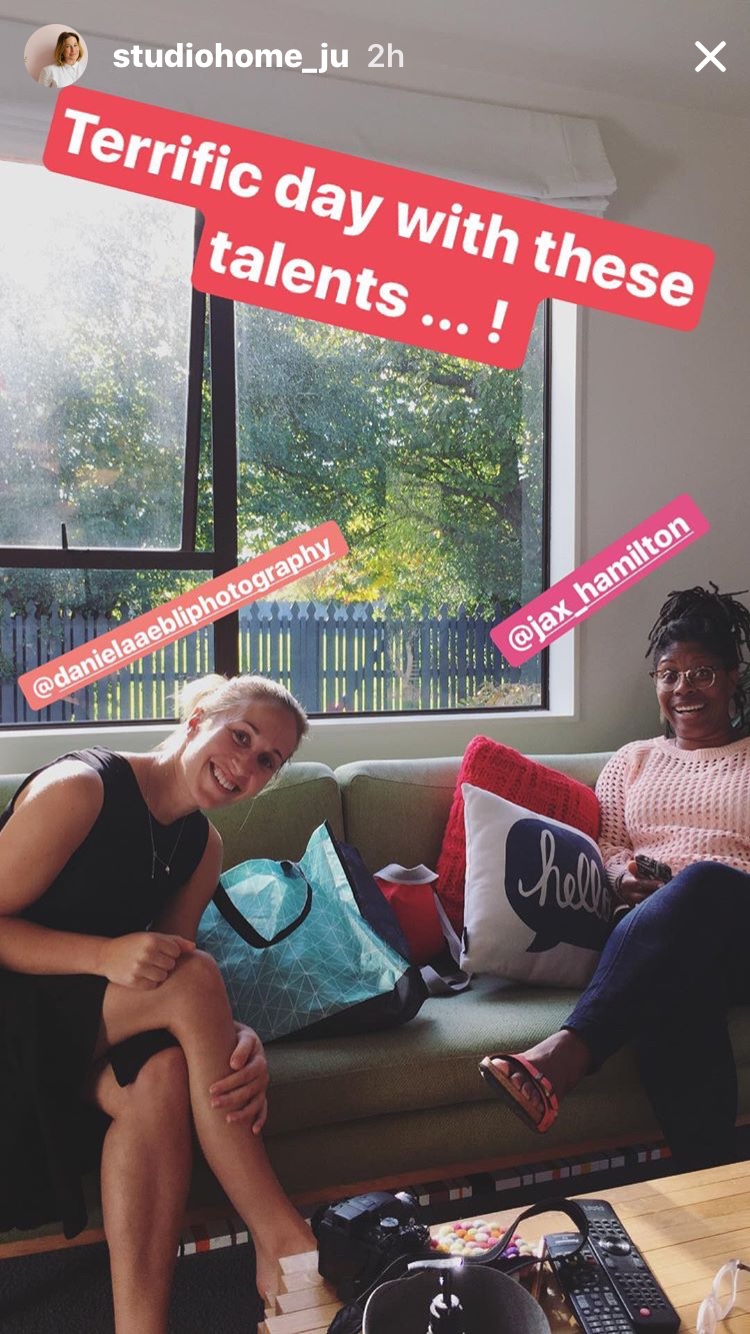 Hahahahah…. chitty chat shot!
Behind the camera Julia, who is represented by (the cushion) sorry for sitting on you love – bahahahaah!
…………….
A photoshoot isn't just about taking pics. There are also many props (plates, cutlery, chopping boards – for texture – t-towels vs tablecloths) to consider, as all pics need to tell a story.
An innocent, airy cloud can float over the sun and the light changes everything.  Let's not forget wardrobe (colours), glasses, jewellery, styling, layers of social media pics and all in my little kitchen.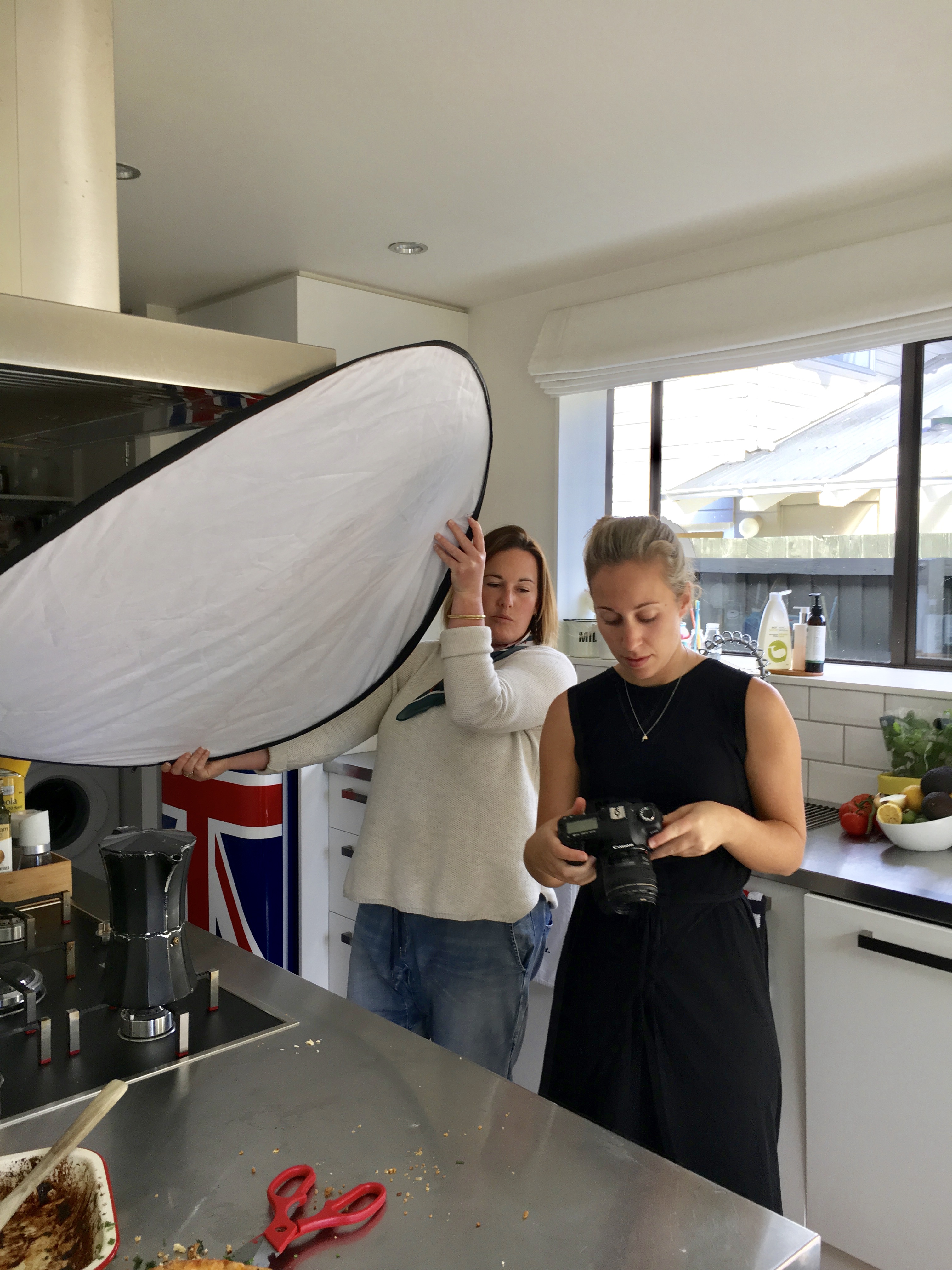 Balancing the light is so important, poor Julia and Daniela….
………….
This post is a lovely snapshot of the 3 of us meeting and creating beautiful dishes to tempt and tantalise. It's a bookmark to my journey which began in 2011 when I became Runner Up : Series 2 MasterChef NZ.
It's been a dream I always hoped for but, like many, to achieve it needed to step right out of my comfort zone. A thrill seeking rollercoaster ride of screams, laughter, bumps and surprises and I'm  loving every minute!
My next venture is the creation of a series of amazingly cool food hacks, you can layer to create easy, delicious recipes, using accessible ingredients from your pantry, for your family. More to come on this VERY soon so stay posted.
For you here, one of the dishes and recipes of the day,  my sexy 3 Cheese & Herb Cheesecake with Caramalised Balsamic Shallots
When meat isn't the expectation but 'wow' is……serve hot out of the oven or take along to a Summer blanket picnic.
CLICK HERE FOR RECIPE
Stay tuned for more on set pics and details of the recipes captured, in the meantime, I'll leave you with one of my favourite quotes, "never give up, for that's just the place and time the tide will turn".
………………………………………..
About Julia : Wow, where shall I start!!! An artistic, creative, businesswoman, with style, passion and drive who arrived in my life when I thought all hope was gone.  With tonnes of integrity, she has a big picture persona and eye for every little detail. Julia has a 'knowing' that is deep and penetrating and she traverses this gift in business like a boss. Honest, bright and sparky, with a smile and flash of hazel, she will set you right and bring the silver lining to any dark cloud.
About Daniela : A dish without salt is bland and tasteless, just like a photoshoot without a good photographer is lacklustre and dull. For me she is my seasoning, producing alive, fantastic, full of personality photos.  With her camera, great eye and light touch she is the sprinkling on all those moments I want to admire, share and capture forever.
All photos, beautifully captured and reproduced by Daniela Aebli Photography.
Thanks for reading.