I've recently learned that renovating an old one is very different to installing a kitchen in a brand new home.  Having never, ever done anything like this before, there were massive lessons for me, everyday.
November 2013, I began planning what was to become a major part of my life for 7 months. The renovation of a tiny (under spec., kitchen – I couldn't even open the oven fully as there wasn't enough room!) To a much larger state of the art, funky work space, but most importantly a space where I do all my foodie thinking!
Firstly, I had to find designers that 'got me' and who I was comfortable with.  So after a bit of too-ing and fro-ing, I decided to call Trends as my mate Debs has a gorgeous kitchen installed by them and it was all emotion from there.
I checked out their website, completed their form and a day later,  Andrea McGregor, a designer called, we made an appointment and that was the beginning of the birth of 'Eve'. What I loved about Andrea and Trends, is they not only understood my predicament of a tiny foot print. But also the fact that I spend a lot of time in my kitchen, not only for work, but also socially and with my boys!  I wanted it to be light, modern, funky, spacious and to mature with time.  In my head I saw, white, stainless steel, colour, wood – hahahahaha!  But no matter what, Andrea understood and the first design draft, she put in front of me – was almost perfect!
So the old kitchen was galley style, off the living area, but with a wall that separated both rooms.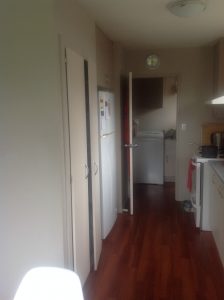 At the end of the kitchen, a make shift laundry which had both a window to the back and two doors.  Really bad utilisation of space.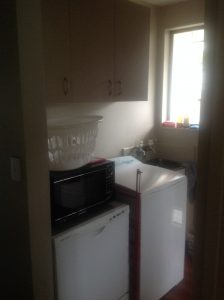 One to the back of my garden and of course one to the small hallway.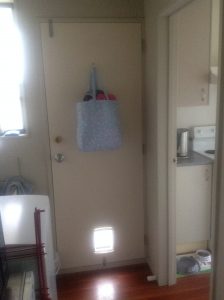 Even though there were many doors / windows and the house itself gets tonnes of light, because of the wall separating from the living area, the kitchen itself was really dark.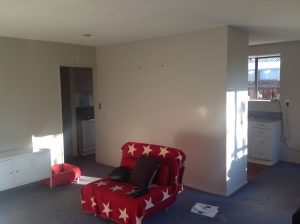 So that whole wall needed to be removed.  Behind the wall, next to the pantry, there also was a 180 litre water cylinder, which had to go as I wanted gas installed, because this girl just can't work induction!
After much deliberating, poor Andrea, she was so, so very patient and uber professional, and the amazing work of Kitchen Things, the suppliers of my sophisticated and sexy SMEG appliances.  My builder Cam and his lovely apprentice Andrew began knocking down walls at the beginning of May 2014.
What a mess! I've never felt so naked and helpless without my kitchen.  It felt like a friend had passed away suddenly! I was lost and really beside myself.
So no going back, we could only go forward.  Luckily for me Cam and Andrew were the BEST in the business and I'm not just saying that.  Penrose Construction – punctual, respectful, affordable and Andrew had lovely legs (not that I was looking – ha!).  Remember when renovating or installing a kitchen, any building work has to be completed before the kitchen can be installed.   Which means the co-ordination of the plumber, builder, painter and electrician.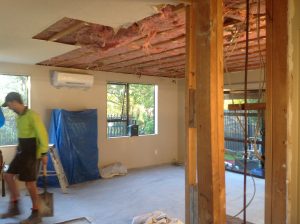 Over 2 and a half weeks, my kitchen went from an ugly duckling…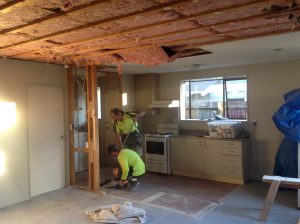 …. to an empty shell…..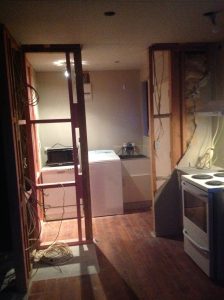 ….no ceiling, wires hanging down… plastic on the floors. No living area.  I was living in my bedroom where I could watch TV, make a stir fry in my electric frying pan and warm my bottom with my electric blanket all at the same time.
When I wasn't cooking in my bedroom, my meals were very basic…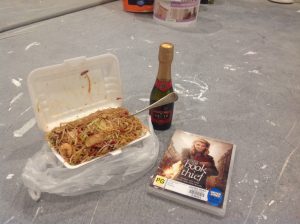 ….. and my evenings a bit lonely.  I have to say I cried more then once!
But almost over night things started to change….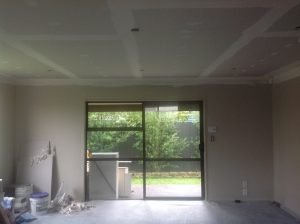 When the old ceiling went, so too did the old fashioned stippled ceiling and all of a sudden the room was transformed from old and fuddie – duddie to modern and chic. It was also a lot warmer with the new ceiling.
Next gib board – ahh the make up for renovations as it hides a deluge of sins… between Cam and I, we decided to take the doorway in the kitchen, all the way up to the ceiling, which makes a small space seem so much bigger.  Good idea Cam!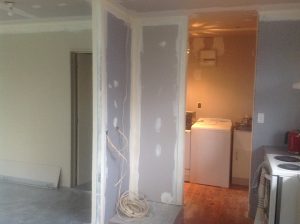 The doorway to the hall, plus the little window in the laundry were gibbed in and no longer a part of the kitchen, but an old receding memory.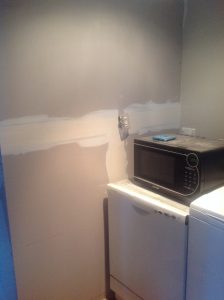 We had turned a corner.  I chose 12 new LED spots for the living area and spent 3 nights painting over brown paint with quarter Thornton Cream, ceiling and walls. What a huge difference.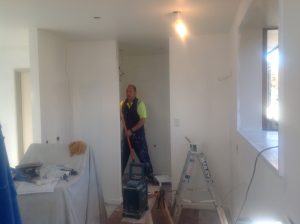 On the first night, which was really warm, I left the front door open for ventilation. I began in one corner and actually burst into tears at the mammoth task ahead.  It was 9.30 at night and I was exhausted.  But I carried on. An hour and a half later I turned around and noticed all these tiny little specs on the ceiling – flies!!! who had happily flown in and stuck to the wet paint search of the light! I couldn't bloody believe it.  All that work.  So. I went into my bedroom, got my tweezers and picked 231 flies off the ceiling and started again!!!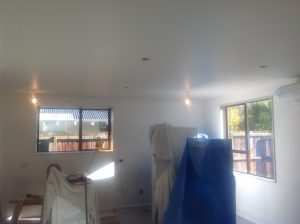 The following week, my new kitchen arrived.
Check out my next blog! – Part 2 : The Birth Of Eve to have a nosy around my new kitchen!