For the last 3 years, I have been blessed to be invited to host the Nova Taste The World marquee at WOMAD NZ. This year was even more special then ever, because WOMAD had a 10 year birthday party, so even more reason to celebrate.  Every year I tell the WOMAD-ites who descend upon the marquee that at every party there is a kitchen, and we all know at parties, all the fun happens in the kitchen, and this year was no exception.
My kitchen is really special because the artistes arrive from all corners of the globe and the magic happens as soon as they step on the stage.  Food and music, requires no language, because together and apart they feed both the heart and soul.  Every performance is very different, at times I was held totally in rapture, hardly breathing, at others tears literally rolled down my legs because I was laughing so much.
We kicked off the show with Dub Inc, a reggae band from St Etienne with a fantastic sound, who cooked a classic French dish of confit duck with mashed potatoes & ratatouille. Delicious.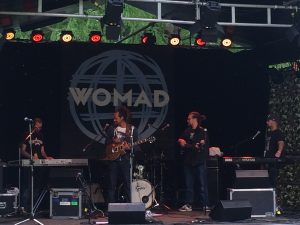 Followed by the haunting sounds of Carminho from Portugal, who thrilled us with a magnificent performance and a traditional portuguese dish of dried cod and corn bread.  Next Red Baraat, a North Indian Bhangra band from Brooklyn, who had us in stitches and dancing Bollywood style, they presented a vegetarian dish of chana masala over jeera rice – one of my favourites.
Next, the gorgeous Grammy nominated Roberto Fonseca, was up in my kitchen, with his deep brown puppy eyes and Buena Vista Social Club history to charm us with his Cuban exotique, cooking up his mum's Cuban Chicken with rice.
We always have an amazing representation of bands with eastern promise and this year was no exception with the chilli eating Shanren, from the southern tip of Yunnan on the Myanmar border, displaying an amazing talent to mimic the sounds of birds and a beautiful Tai Chi performance.  They cooked Ximeng – Pumpkin Rice with Shredded Spicy Chicken with a relish of the hottest chills on the side, which they ate like pesto – eek!
Next if you've heard the chanting intro on Beyonce's Drunk in Love, well you will already have been introduced to Danyel Waro from the Island of Reunion.  What a character, cooking Rogay La Mori (cod fish and vegetables), whilst dancing, singing and shaking his rain maker.  While he was in Taranaki, he also climbed the mount – you go Daniel!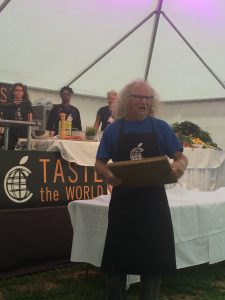 Back to Europe and Ane Brun, prepared a dish of Klippfish from her homeland of Norway. Then off to the Africa's, Zimbabwe to be precise and the boys from Mookomba.  They had me in stitches again with their  tribal stories, positive attitude and talent with their ability to perform percussion with any kitchen utensil.
We shared a massive plate of Zimbabwean Chicken Stew with peanut butter rice (I'm so going to steal that recipe!)
Over the past 2 years Taste The World in conjunction with TSB Community Trust holds a cooking competition for the local schools.  This year we had entries from Spotswood College, New Plymouth Boys High, Waitara High, Inglewood High and NP Girls High.  The theme is Taste The World and the dishes this year were phenomenal.  The overall winners Waitara High with their Kai for Italy, joined me on the stage to kick off the festivities on Sunday.
Now, it's not often I am shy, lost for words or in awe, but the following band have been one of my favourites since the 90's and I had butterflies, the jitters, every type of nerves before they joined me on the stage to cook Turkey Lasagne.  Speech and Yolanda from Arrested Development!
Last but by no means least, all the way from France, Cie Fracasse de 12 erupted on stage and basically created the most hilarious havoc!  The marquee was fit to busting point, there were people as far as my eyes could see and we had a ball.  It was the best ever WOMAD for me and Cie Fracasse, with their hoki dish and leek fondue followed by prune cake, were the perfect end to a beautiful 3 days in my kitchen.